Hello guys!
Saturday is here and I'm forfeiting sleep in the name of social life and spending time with my friends! But I also have an entry for Saturday Pages and this one is one that's been in my Kindle library for a while, so it counts for my 2014 TBR Pile Challenge!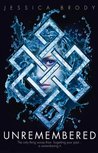 Unremembered
by
Jessica Brody
My rating:
4 of 5 stars
Book events are not only a wonderful way of meeting authors you love but also a way to giving you a push to read books you've had a while but hadn't get to read yet. After attending the Fierce Reads event in NYC, I loved how Jessica Brody described her series so I started reading this one and bought the second book, the novella and preordered book 3!
Unremembered starts with a main character that doesn't know anything about her, doesn't remember anything except a year that is not the current one and she is found in the wreckage of a plane crash as the sole survivor.
It starts as a thriller with our girl unsure of everything and everyone, and the people around her aren't sure either. She ends up with a foster family while they try to find her own family, but as much as Violet as they call her try to find some comfort in normality, some weird things keep on happening and we keep on asking more and more questions about what's happening and why, and who is Violet really? And can we trust that guy who says he knows who she is and what's happening?
I am a big lover of science fiction and I loved how this one mixed the mystery and thriller bits with the science fiction that becomes more relevant the more you progress into the story! I loved that the romance was both absolutely central to the story but at the same time not what the book is about, if that makes sense. It's hard to explain without spoiling something!
The pacing seemed a bit slow at first cause we keep on getting more questions than answers but then it quickly picks up and once the book ends you are left wanting more!
Very well deserved 3.5 to 4 stars to this one. YAY for science fiction YA and book events!
View all my reviews