Hello guys!
Welcome to yet another edition of
Friday Reads
and in this one I will continue to attempt to catch up, so this is the first entry of two for today.
The first book I read while on vacation, yes last month, I am trying to get through the backlog of books I read but didn't review back then! It was one of those awaited sequels and features one of those rare love triangles that don't make me want to bang my head against a wall!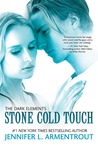 Stone Cold Touch
by
Jennifer L. Armentrout
My rating:
4 of 5 stars
Stone Cold Touch is one of those middle books in a trilogy that doesn't suffer from the middle book syndrome!
I will try my best of avoiding adding spoilers, but just in case... be warned that there might be some here and there!
White Hot Kiss was a book of self discovery for Layla and it was also more about her relationship with Roth, the prince of Hell, and it ended in a rather heartbreaking & cliffhanger-y way!
Now in Stone Cold Touch we discover even more things about Layla, and she is still living among the Wardens, even if they are even more suspicious of her and treat her like the guilty party for anything and everything.
And in this book Zayne, or Stoney as Roth would call him, gets his chance to show Layla why he should be considered seriously as part of this love triangle. Friends to lovers is one of my favourite tropes and it is so well done here!
As far as the threat that we thought had been vanquished in WHK apparently wasn't really vanquished and we spend most of the book trying to figure out who is the bad guy and Layla spents the whole book thinking the worst of herself and torn between finally having a chance to something with Zayne, and her feelings for Roth!
I should have suspected who the real bad guy was because once it is revealed I sort of did a bit of a facepalm, but JLA did a great job at distracting us with Layla's guilt and self-deprecation to really focus on the crumbs she has been placing here and there.
The ending of this one is ONCE AGAIN another cruel and evil cliffhanger and dammit I cannot wait for the final book next year! I was clearly Team Roth in the first book and now I'm not suuuure!! Team Zayne? Team Roth?? Aaaahhhhh!
Well deserved 4 stars for this one!
View all my reviews