Hello guys!
Today is a weird kind of Monday. It is an official holiday here in Spain so people aren't working, except for those like me, so it is a working Monday, but since I've also worked the weekend, it's not a "terrible start of the week" kind of Monday!
I'm starting the week with an ARC edition of
Mark This Book Monday
! I got approved for this one on NetGalley by Harlequin HQN and I am oh so grateful because they always approve my requests! Since I ended up reading it once my preorder arrived, I've read the finished copy.
I did a buddy read for this one with the lovely Emma of Never Judge a Book by its Cover and it was great having someone to discuss the book while reading and share all the feels! I cannot wait till the Book Club she's organizing starts in Jan!
As an ARC this one will hopefully continue to improve my NG ratio and will count towards my
2014 Review Pile Reading Challenge
!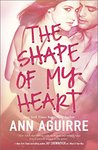 The Shape of My Heart
by
Ann Aguirre
My rating:
5 of 5 stars
Ann Aguirre really knows how to write NA in a way that keeps me glued to the page, connects with me emotionally and makes me want to beg her to write more books!
I had read and loved the previous two books in the 2B trilogy and for this one I did a buddy read with the lovely Emma from Never Judge a Book by Its Cover, because we both were super excited for this one!
This is the story of Max and Courtney and quite unexpectedly, it is my favourite of the three of them. I connected to these two and their story in such a raw and personal way that I found myself bawling my eyes out more often than not.
Max we met on the first book since he was one of the original tenants of the 2B apartment, but we always saw only the façade he showed to the world, though we got hints at who he really was and what might be behind his bad boy looks and attitude. And boy did I love discovering who he really is! His past in no walk in the park and it's amazing the strenght that the character has.
Courtney is a more recent addition to the 2B apartment but she really got to me. I wasn't 100% sure of her when we met her as Lauren's replacement but being in her head in this book made me love her. She is one tough girl that defies expectations and conventionalisms to always try to be true to who she feels she is, and she's strong and emotional and broken and has flaws and simply is a fantastic character.
The relationship between Courtney and Max started from flatmates, to friends, to best friends to couple and it was done great, so much that it got me super emotional and super invested on their relationship. Not only they have to realize that they have feelings beyond friendship and trust but they have to deal with each other's ghosts, Max's family and Courtney's ex and her family.
There are many tough themes touched upon in this book like alcoholism, death, substance abuse, accidents, disabilities... but always presented in a realistic way and never felt cheap or done for the sake to stir drama. And as tough and realistic as they can get, there's always a current of hope and positivity through this book that makes you feel like even if things are bleak, they can get better. And the characters will fight tooth and claw to make it better.
I highly recommend this series to all of those who love NA or love Ann Aguirre or love contemporaries and to all the rest too because although Ann is now on my auto-buy list, I am not a big fan of NA or contemporaries and I've loved all three of these books! Ver well deserved 4.5 stars for this one!
View all my reviews