For my last
Friday Reads
entry of the week, I have yet another 5 stars review for today! I must thank Wendy from
The Midnight Garden
for her review, recommendation and book pushing to make sure I preordered this one!
And a big thank you and a hug to my dear canary and awesome fellow blogger Kristen from
My Friends Are Fiction
for buddy reading this one with me. If there is a book that need to be read with a buddy, is this one! Someone to discuss all the twists and to give moral support through the creepiest bits was extremely welcome!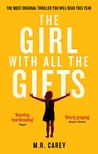 The Girl with All the Gifts
by
M.R. Carey
My rating:
5 of 5 stars
This is one those books that you just cannot help but want to push into everyone's hands as soon as you're done reading it, even more... I started recommending it even while reading it!
Wendy from The Midnight Garden was the one that put this book on my radar, and conviced me to preorder it immediately! And boy am I glad she did! I read this one with Kristen of My Friends Are Fiction and it was the right thing to do! This is a wild ride of a book and having someone to talk to about all the shocks and turns you keep on getting!
I'm gonna try to keep this review as vague as I can because this book is best enjoyed with as little information as possible! Not without some warnings, of course. This is a disturbing book, with some really creepy moments, some extremely disgusting moments of violence (animal and children). But it is also full of food for thought and a lot of moral questions. And this is a zombie book, but really I should say that this is THE zombie book!
Now, you go and read the book! Never mind me babbling for a little longer here, because I cannot help it, since this was a fantastic book!
The summary is a bit vague and with good reason! We start the book wanting to know why Melanie is in a cell and then taken to a classroom at gun point. And it is not a mystery that is dragged along the book, not at all. I was actually very surprised how soon we got some of those answers, but then again... this book manages to throw you a curve ball every few chapters, completely unexpected and that leaves you reeling. And of course there are added creepy and disturbing moments all over the place!
And that ending... I had no clue how the book was gonna end because by then I was sure I was gonna get surprised not matter what theories I had made up on my own head. And yes, the ending got me completely by surprise. Once you think about it for a while, it is both a hopeful and still grim & hopeless sort of an ending and the most fitting sort of ending for this book.
This is a 5 stars book, and probably ALL THE STARS! I loved it to bits, how it made me squirm, how it made me think, how plausible is it, how science wasn't dumbed down but not confusing, how creepy and disturbing and how deep it was. A brilliant brilliant book indeed!
View all my reviews