And as my final entry for this week's
Friday Reads
I have a review for an ARC that is part of both my
ARC August
challenge and the
2014 Review Pile Reading
challenge. Thank you so much for the approval Spencer Hill Press! Hopefully I'll be getting closer to the 80% ratio on NetGalley already!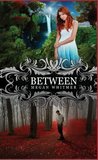 Between
by
Megan Whitmer
My rating:
4 of 5 stars
I was quite excited about this book when I first heard about it, and so I both preordered it and requested an ARC via NetGalley. I got approved for the ARC after release day, (thank you Spencer Hill Press!!) and that was the final push to move this one up on my reading list!
Charlotte (Charlie) Page and her twin brother Sam are enjoying their own quiet celebration of their birthday, when a strange creature comes out of nowhere and causes their world to change radically. Sam and their mum become separated from Charlie and Seth, their neighbour and honorary older brother of sorts. Without having time to deal with the terrifying appearance of a monster and having to separate from her family, Charlie finds herself in a place called the Between and then another place called Ellauria, each more beautiful than the next and more impossibly surprising and mind blogging for Charlie.
The world building in this book is quite amazing, with a new and different take on some well known creatures and a few new and unique ones. And one of my absolute favourites parts of the book were the descriptions, given that Charlie is an artist and she would appreciate her new surroundings with an eye for detail that would differ from any other character. Not only the descriptions were amazing and beautiful but also extremely visual and helped bring the world to life.
Charlie has to deal with so many revelations and life shaking truths she had not imagined possible that I can't blame her for her disbelief and rather rash behaviour on occasion. She ends up handling things rather well and even if she challenges a few rules along the way. Her relationship with Seth is quite interesting and seeing how it changes with all the revelations and how it evolves from sort of brotherly to forbidden. There was a slight hint at a love triangle around but thankfully it was discarded/resolved quite early on.
The pacing of the book was good, even if it seemed like there was three quarters of the book of build up and only the last quarter for the big showdown. And despite the main conflict being resolved, I was left a bit unsatisfied given that most of the personal conflicts are not resolved, and that leads me to wonder if Between will have a sequel, which is my hope!
A unique mix of fantasy and paranormal, well deserving of 3.5 stars!
View all my reviews