Hello guys!
Today I'm a mixed up sort of post since I was feeling quite unmotivated to write yet another review... so I got an idea for this post!
It's a mix of my usual Saturday posts,
Saturday Song
and
Saturday Pages
! I'll have a mini review of my re-read of Scarlet for the
#TLCReadAlong
and also a few songs that made me think of the characters!
To begin with, I'm sharing a song that I feel it's perfect for these amazing retellings, because they are familiar versions of a Once Upon a Time story but they're amazing stories on their own! (and I LOVE this song from the Maleficent movie!).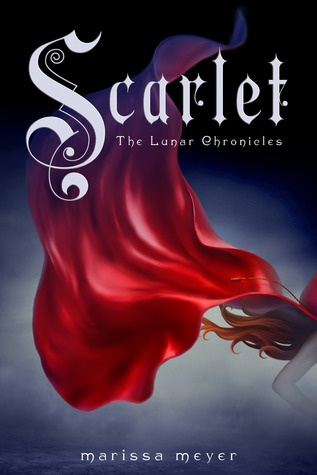 Cinder, the cyborg mechanic, returns in the second thrilling installment of the bestselling Lunar Chronicles. She's trying to break out of prison--even though if she succeeds, she'll be the Commonwealth's most wanted fugitive.

Halfway around the world, Scarlet Benoit's grandmother is missing. It turns out there are many things Scarlet doesn't know about her grandmother or the grave danger she has lived in her whole life. When Scarlet encounters Wolf, a street fighter who may have information as to her grandmother's whereabouts, she is loath to trust this stranger, but is inexplicably drawn to him, and he to her. As Scarlet and Wolf unravel one mystery, they encounter another when they meet Cinder. Now, all of them must stay one step ahead of the vicious Lunar Queen Levana, who will do anything for the handsome Prince Kai to become her husband, her king, her prisoner
I remember being rather unhappy about how the focus in the book kept changing from Cinder to Scarlet the first time I read the book, before I realized that was how the series was, both consecutive/sequel like books but also with different main characters (and couples) at the head of each book, adding to the cast and the team
,
makin
g the world richer and the plot even more complex!
So this time around I was ready to read again about Scarlet and Wolf with a different mindset and I found myself liking Wolf almost from the get go, and getting to warm up to Scarlet so much easily too! She's got quite a temper and I feel like teen-Pili would have related with her throwing tomatoes at the wall so much!
I have once again realized that I had forgotten quite a few details but holy cow! I totally had forgotten about some bigger things that I cannot mention because SPOILERS but damn, I'm so glad I re-read this before Winter!
I also found that I had a few more issues with how Scarlet and Wolf's relationship progress, mostly in the time frame it takes place... somehow I don't think I felt it went too fast as much as I did this time. I can understand that for Wolf it is more of a primal thing, an Alpha finding his mate, but for Scarlet? Even after knowing what I know about her... it doesn't make the same sense for me. But by the end of the book I'm once again totally onboard with the ship and I find them so adorableee!!
Dear Captain Thorne, I had forgotten how conceited and irritating he read from Cinder's POV, since I got used to him being a lil different and seeing him way differently from Cress' POV! But I liked how he quite quickly became an ally for Cinder and how he and Iko ganged up on Cinder whenever Kai is involved!
And now for some more songs!
This Florence + The Machine song is perfect for the relationship between Scarlet & Wolf, given how primal and visceral it feels at times!
This Metallica song is perfect for Wolf, even if it might refer to shape-shift at some point, the title is quite on point!
I had the harderst time finding the right song for Scarlet, because she's such a firecracker and strong character... And I think this one is pretty accurate after all! If you have any other suggestions, let me know!
And last but for sure not least I found this song that I'd say would be the perfect fir for Queen Levana! Found it while I was looking for the right song for Scarlet!!
Do you guys have any other songs that make you think of The Lunar Chronicles or any of the characters? I have a few ideas for Cress!