Hello again guys!
For the first
Friday Reads
since quite a while I'm bringing not one but two reviews, because even if I haven't been blogging, I haven't entirely stop reading, not at all! Maybe not as much as I would have wished, but I do have a few reviews that I want to share with you guys!
And I'm finally adding some books to my
105 Challenge
, because although both are fantasy books that released on 2015, I'm counting one towards my
fantasy category
and the other towards my
2015 release category
, as well as counting The Girl At Midnight towards my
2015 Debut Author Challenge
!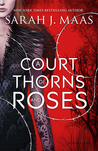 A Court of Thorns and Roses
by
Sarah J. Maas
My rating:
4 of 5 stars
An absolutely fascinating book that made me want to keep reading! Sarah J Maas writing is as captivating as always, and I loved the way she mixed Fae and Beauty and Beast and made it her own story.
I loved the characters and I loved what a fantastic main character Feyre was! So human, so flawed and so strong! She's her family's provider and she resents them for it, but it's been what has defined her for so long, that she doesn't know how to do something else, how not to be the one having to take care of them every time.
At first seems like her sisters both seem to be a bit of a stereotype, the sweet and oblivious one and the mean and uncaring one. But as the story progress both the reader and Feyre discover that there's more to her sisters than we thought as first, particularly Nesta "the mean" one.
As far as the Fae... I felt like everything was woven so well and the world building of the different courts and their differences and the politics of the Fae and the lies and the curse and all the monsters in the many shapes that they're presented! Feyre is introduced to the Fae through a rather nice Court with fairly decent Fae, with snarky Lucian and strong and brooding Tamlin. But then she finds herself Under the Mountain, and oh boy... all hell breaks loose in there. Everything about Fae trickery and their crazy games and politcs come true here, with Rhys reminding me a lil of The Darkling, dangerous, alluring but ultimately not to be trusted.
Tamlin also has his own allure and oh boy... the chemistry is off the charts when it comes to our slightly beastly Fae! I must confess the bite scene made me fan myself! If you've read it, you probably agree with me, and if you haven't... you'll know what I mean when you do!
For some reason I just didn't feel like the transition from distrust and fear to companionship and then love was done smoothly enough, or I simply didn't connect too well with it, so that's my reason to not give this one a higher rating, somehow it rattled me, but once she was Under The Mountain, despite her bad choices, I felt like the connection was so strong and worth moving mountains, no pun intended!
Really looking forward to the next book, even if I fear what's to come next!! Very much deserved 4 stars to this one!
The Girl at Midnight
by
Melissa Grey
My rating:
4 of 5 stars
This one had a certain feel of similarities with other books I've read and loved but they were combined in such a way that was its own and never felt like something I had read before, if that makes sense!
I loved Echo and I loved her thieving ways and how much she loved books and I adored how she always had the aproppriate word for everything! She can be a bit prickly and closed up on occasion but I loved how she defied authority and had a fierce loyalty to those she loves, the family she found and made for herself.
The fantasy world was built up in a wonderful way, very visual and very grounded in the real world at the same time! I loved how we kept travelling from one city to another, and how through the writing and descriptions we got to feel like we were there, each one of them with their own unique flavour and flare!
Both the Avicen and the Drakharis have their own cultural differences fleshed out although we lack in-depth history about them and their war, which I suspect we'll learn more about in the next books in the series, that I cannot wait to read about!
Great main and secondary characters, with wonderful friendships and complicated relationships, including diversity in more ways than one!
Echo and her best friend had a wonderful relationship and banter, and I love how even though some of the events shape them both in very different ways, they find a way to remain friends and get through things together, their friendship helping them throughout.
Casius and Dorian also have a friendship that span centuries, even if it's not entirely as equal as it is for Echo and Ivy, but it feels stronger once Dorian stops being in denial and opens up to what might be out there.
Jasper is an interesting character, a scoundrel and not to be trusted easily, with a flair for the dramatic and beauty, that ends up surprising even himself with his capacity for selflessness!
The plot moved rather fast, with plenty of tension even in the moments our characters are trying to regroup and heal, and I was quite surprised when the climax resolved in the way it did! Quite the game changer and now I'm not sure how it's gonna play in the sequel!
All in all, most well deserved 4 stars to this one! Can I get the next one now?
View all my reviews