Hello there guys!
Happy Saturday! After today, the hiatus officially starts on my blog... I'll still have some post here and there, but I'll spend less time checking posts or comments, because I really need a bit of a breather and I'm gonna have other demands of my time pretty soon with everything involving the apartment.
I'm having a pair of mini-reviews for two books for this week's
Saturday Pages
, one an awaited sequel, the other a new book from a new-to-me author, both counting towards my
2015 releases
category for the
105 Challenge
!
Rogue
by
Julie Kagawa
My rating:
3 of 5 stars
Julie Kagawa is one of my auto-buy authors, because I've loved everything I've read by her and Talon was no different last year, it wasn't exactly what I expected but it was a great book nonetheless. When I got approved on NetGalley to read Rogue early I was extremely excited.
I'm not gonna say I was terribly disappointed, but I must confess to not be as thrilled with the book as I expected. It was a book full of action, with Ember on the run with Riley, full on rogue, and rescuing Garret and running from Talon and the Order of St George both from then on.
I felt like there was a lot of action, a lot of running and fighting but we really aren't getting to many places at all. Talon want Ember back and we continue to perceive that there's a lot more behind the why but no idea why, we know Talon is hiding something big and we only get an answer that leads to more questions by the very end. And we still don't discover anything more about the past of Talon & St George and their battles.
And my biggest issue with this book is probably Riley, I think that I like him as a dragon and head of the rogue operation well enough, and I liked getting his backstory of when he left Talon, although I felt it didn't give us all that much information, but when it comes to him and Ember? I just cannot stand him.
So there comes my big issue, I don't tend to like love triangles, and although I still understand this one, two guys, one for each side of Ember, the human and the dragon... I cannot stand Riley as a love interest, I'm Team Garret and I am very much bothered with how Riley acts.
Ember is confused from her own feelings and the way her dragon reacts, but I'm still not sure how that dichotomy works, but I guess we might get more explanation for that in the next and final book, or so I hope! She is still hoping that her twin will choose her instead of Talon despite the initial betrayal, and she proves a bit too naive and not as good a fighter as you'd have expected after her training.
All in all, a good enough book, but I wanted more... more answers and less triangly! Oh well, 3 stars to this one. I do hope to get moooore answers on the final book!
*EDIT* There will be 5 books total, so who knows when we'll get answers!!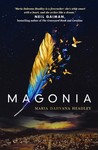 Magonia
by
Maria Dahvana Headley
My rating:
4 of 5 stars
What a fascinating book! I loved the pacing and the writing and although I had a few issues with Aza at the very start, I grew to love her dearly!
I wasn't 100% sure I'd like Aza because somehow her snark and way to deal with her illness seemed a bit odd to me at first, but very soon I saw the way she tried to face every day, and how she tried to define herself, not only as the girl with the death expectance and the freak insides. We see her with her family and with Jason, and I fell in love with the lot!
I really enjoyed having their alternating POVs, both Aza's and Jason's, since we went to know them both better from each other's perspective in a way we wouldn't if we only saw each other as they see themselves, and it also completed the events happening.
The book has a big feeling of contemporary story at first, and then moves into the fantasy realm without a hitch, making us wonder too about the possibilities of ships in the sky! I was rather annoyed at the insistence of the Magonians for Aza to believe them and to simply leave everything behind and to adapt quickly to their expectations, when all she knew was the human life for fifteen years! I really liked that Aza was so realistically thrown for a loop and tried to adapt while still feeling out of kilter.
The worldbuilding on the ships and Magonia and was fascinating, as we learn details little by little along with Aza, and I feel like there is more to discover in hopefully a sequel, because although we get a wrap up on the plot ARC that was central to this book, there is plenty to expect to come up for a sequel for sure!
A word of warning, there might be some hints of a somewhat love triangle, but not. Just a few vibes here and there, all justified for reasons I won't discuss because spoilers, but it never went full love triangle.
It was a very compelling read that I couldn't put down and that I thoroughly enjoyed! A wonderful 2015 that I highly recommend! Well deserved 4 stars for this one!
View all my reviews